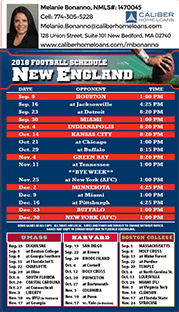 Personalized 2018 Football Schedule Magnets, printed with your logo and contact info will be an awesome way for you to advertise and attract business during the 2018 Fall football season!
Getting a 2018 Football Schedule Magnet into the hands of your current clients and prospects gives you the edge on getting your name ahead of your competitors!
The standard design of our 2018 Football Schedule Magnet is one schedule at the top, and up to 3 college football schedules arrayed below the top-football version. Or, the college teams can be removed and two pro football teams can be put on the same football schedule magnet.
Or….if you want multiple teams to be displayed, we can design your 2018 Football Schedule Magnet for your needs (we have lots of creative flexibility with our magnet designs).
We also have 2018 College Football Schedule Magnets
---
Standard Magnet Size is 4″ x 7″, printed in full-color.
Your Custom Imprint Area in inches: 3.75″ (w) x 1.0″ (h). 
100% MADE IN USA.
Normal Production Time: 7-10 Working Days.
For Quantity Pricing, visit this page link: Schedule Magnet Pricing