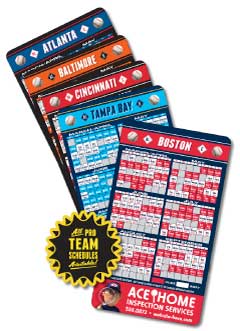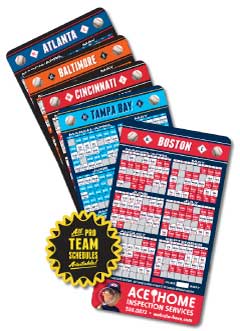 Use custom, personalized 2018 Baseball Schedule Magnets, printed with your logo, your business name and contact info on a highly cost-effective advertising tool that baseball fans will love receiving from you!
Give your baseball schedule magnets to your current clients, new prospects, hand-out at tradeshows, business meetings, or use to give to everyone you meet who likes baseball in your area so your name is always at the TOP of everyone's mind!
Studies show that using promotional products like baseball schedule magnets can help build-up a positive brand image of your company in the minds of clients and prospects.  Your baseball schedule magnets will make your customers feel great about you, which will result in you getting more business and more referral business!
The standard sized magnets are 4″ x 7″, printed in full-color.
Your Custom Imprint Area in inches: 3.75″ (w) x 1.0″ (h).
100% Made In USA | Normal Production Time: 7-10 Working Days.  (RUSH may be available)
Schedule Magnet Pricing (4" x 7" Size Magnet, 25 Mil thick)
QUANTITY ORDERED
100-249
250-499
500-999
1000-2499
2500-4999
5000-9999
Price Per Magnet*
$1.49 ea.
$0.78 ea.
(+25 Extra Magnets FREE!)
$0.65 ea.
(+50 Extra Magnets FREE!)
$0.55 ea.
(+100 Extra Magnets FREE!)
$0.45 ea.
(+250 Extra Magnets FREE!)
$0.35 ea.
(+500 Extra Magnets FREE!)
Full-Color Printing
FREE!
FREE!
FREE!
FREE!
FREE!
FREE!
Setup Costs
FREE!
FREE!
FREE!
FREE!
FREE!
FREE!
Shipping
Quoted
Quoted
Quoted
Quoted
Quoted
Quoted
*Pricing Note: Prices quoted above do not include shipping cost. If delivery point is in Georgia, sales tax will be collected.
Call: 877-311-8683